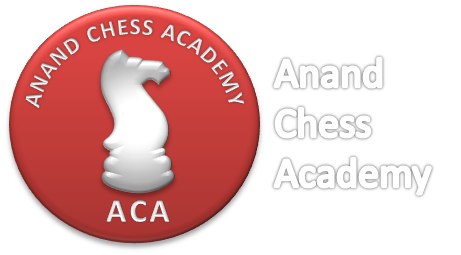 2014 ACA FIDE Rated Tournament Series
Four seasons, four great tournaments to help you go up the international Chess rating ladder. The tougher the competition, the bigger the rewards!
Anand Chess Academy, Trivandrum announces intensive chess coaching sessions for children
Chess coaching sessions for children in the age group 5½ to 15 at Anand Chess Academy, Pattom, Trivandrum. [Google Map]

Fridays, Saturdays & Sundays

Lecture Session: 10 AM to 12 Noon
Lecture Session: 12 Noon to 2 PM
Lecture Session: 3 PM to 5 PM

Two months vacation classes start from March 30th.


Contact: P. Venugopalan, Director, ACA
Mobile: 944 779 5045
Minor Piece Ending: Position #317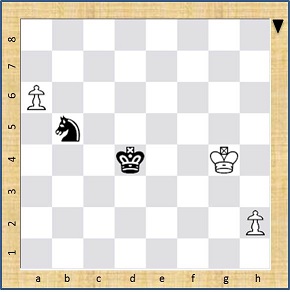 A position from our Level III course on endgame techniques. White's 'h' pawn looks menacing. However, the Black King can drop back to the kingside and hold the pawn, but, that would let the White King chase the Black Knight and maybe promote the 'a' pawn instead.
Can Black save the game?
Incidentally, Magnus Carlsen played 1..Nc7 in this position and lost the game!
Winners of the 7th ACA All India FIDE Rated (below 1600) Chess Tournament in Trivandrum
---
| | | |
| --- | --- | --- |
| 1st | ABHISHEK T M | KERALA |
| 2nd | KARAN J P | KERALA |
| 3rd | GUHAN RAM SHANKAR | TAMIL NADU |
| 4th | AZIZ M | KERALA |
| 5th | ANEESH A | KERALA |
---
Winners of the 6th ACA All India Open FIDE Rated (below 1600) Chess Tournament in Trivandrum
---
| | | |
| --- | --- | --- |
| 1st | VINAYAGAM M | TAMIL NADU |
| 2nd | PAVAN C | KARNATAKA |
| 3rd | PANDI DURAI P | TAMIL NADU |
| 4th | VINOD S | KERALA |
| 5th | ABHILASH G | KERALA |
---
Contact
P. Venugopalan
Director, Anand Chess Academy

Mobile: (+91) 944 779 5045
email: director@anandchessacademy.com
Calicut
---
Deshaposhini Library Complex
Kuthiravattom P.O
Kozhikode 673016

Trivandrum
---
1st Floor, Vismaya Complex
Near Marappalam Bus Stop
Pattom, Trivandrum 695004
[Google Map]
Anand Chess Academy
Affiliated to Chess Association of Kerala
Reg. No. S-333/05
Founder
---
P. Venugopalan
Director, ACA
(Joint Secretary, AICF
& Sr. National Arbiter)

Mobile: (+91) 944 779 5045